---
Peru, Ecuador, and the Galapagos Islands
---
Arequipa and Colca Canyon, Peru
Arequipa is a beautiful city in the "foothills" of the Andes (only 7500 feet elevation). Colca Canyon is one of the deepest canyons in the world. See llamas, alpacas, vicuñas, guanacos, condors, eagles, hawks, falcons, cuy (guinea pigs), churches, a bridge built by Gustav Eiffel, unusual vegetables, and a beautiful multi-colored convent.
Cuzco and the Sacred Valley, Peru
Cuzco is the ancient capital of the Incas. There are amazing ruins both in Cuzco and in the neighboring Sacred Valley. See temples, ancient baths, museums containing evidence of Inca brain surgury and mummies, salt evaporation pools, amazing stone work, and rainbows.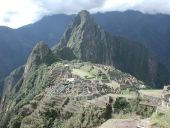 Machu Picchu, Peru
Machu Picchu is an Inca town built in a spectacular setting on an impossibly steep mountain.

The Galapagos Islands, Ecuador
The Galapagos Islands are one of the most amazing places on earth. These isolated islands are home to many species found nowhere else on earth. See giant tortoises, iguanas, boobies, frigate birds, friendly sea lions, Sally Lightfoot crabs, pelicans, and albatrosses.

Quito, Otavalo, and Bellavista, Ecuador
Quito is the capital of Ecuador, high up in the Andes. Otavalo is a quaint market town, and Bellavista is a cloud forest reserve where there are 22 different species of hummingbirds alone. Also see the Mitad del Mundo (the middle of the world), marking the equator.

Galapagos Underwater
Underwater photographs from the Galapagos Islands. Fish, sharks, friendly sea lions, penguins, and sea urchins.




Panoramas

All photos in chronological order.

Go to Wm's photo albums.

Go to Wm's Home Page.